Homemade Puff Paint
Need something to do with the kids on a long summer day? Try homemade puff paint art! This easy craft will intrigue your kiddos and will keep them busy indoors. You can make any fun shape that your child's heart desires. Let their imaginations take over!
Materials:
-Construction paper
-Shaving cream
-Elmer's glue
-Food coloring
-Bowls
-Spoons
-Pen, pencil or marker
-Smock to protect your child's clothes if needed
-Visuals
Visuals
When using visuals, the goal is to focus on using the specific visuals that help your child:
-Understand
-Attend to the activity
-Create joint attention
-Participate within the activity
-Use their social communication language (i.e., requesting: "I want to stir," taking turns: "My turn to squeeze glue," commenting: "Look," etc.)
-Follow directions
Point to the pictures as you talk.
Steps
First, draw your shapes on the construction paper to serve as a template. We chose a sun and a rainbow. If your child needs help drawing, you can first "dot out" the shapes so he or she can trace instead of drawing free handed.
Next, put shaving cream in a bowl. This is a great task for your child to do as it requires finger strength!
Then, put glue in the same bowl. The ratio of shaving cream to glue is about half and half but is not exact. You can just eyeball it and add more later if needed. Again, having your child open the glue, squeeze the glue bottle and then close the glue are good fine motor activities as the address finger strength and precision as well as overall hand strength. They will also love finally being able to squirt out LOTS of glue from the bottle instead just a little.
Next, stir! Your kiddo will love mixing up the gooey puff paint and this is another great activity to work on increasing their dexterity and coordination. When you stir, make sure the glue and shaving cream somewhat hold together. If it is too fluffy, add more glue. The more glue you add the more your puff paint will harden when it dries.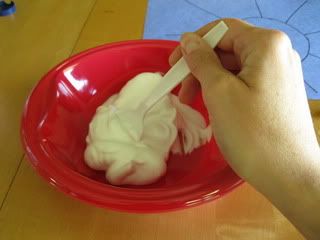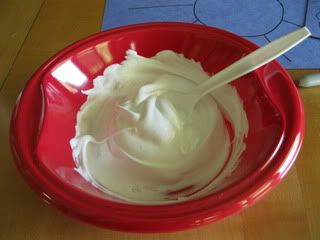 We divvied up our puff paint into four separate bowls because we used four separate colors of puff paint for the rainbow and sun (red, yellow, green, white). We put a little more puff paint into one bowl because we knew we would need more yellow paint than the other colors since we would be using it for our sun and the rainbow. This is a great opportunity to work on simple fractions or "a lot" and "a little."
Next, add the food coloring and stir. Use whatever colors or color combinations you and your child would like. This is a fun opportunity to talk about mixing colors (red and blue make purple; yellow and red make orange). For our paint, we used about eight drops of yellow food coloring and about four drops of red and green. We left one paint white.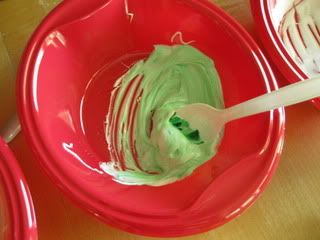 Then it's time to paint! Dab some yellow paint into the circular part of the sun and then spread with the back of the spoon. For the rays, dab some paint into line shapes. Then go back and smooth out the circular part of the sun and then smooth out the sunrays.
For the rainbow, we did the arches one at a time. Dab some red paint on the outer arch and smooth it out with the back of the spoon. Do the same with the yellow and green. Then paint your clouds. A couple of tips: the more puff paint you put on a page, the heavier your paper will be and the longer it will take to dry.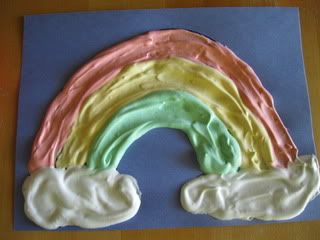 Let your masterpieces dry for an hour or two and then your child can touch and explore the dried puff paint! If your puff paint doesn't harden enough and is wet the touch after an hour, then that means next time, add more glue. We also love this craft during the holidays as you can make puff paint ghosts, Christmas trees, Easter eggs and more. You can also make swirls of color by stirring and not mixing the food coloring all the way or even bedazzle the art up a little and add glitter, confetti and sequins. Have fun!
~KidSpeak, LLC
www.kidspeakdallas.com
©1999-2011 Mayer-Johnson LLC.
All rights reserved.
Used with permission.
Created by KidSpeak, LLC