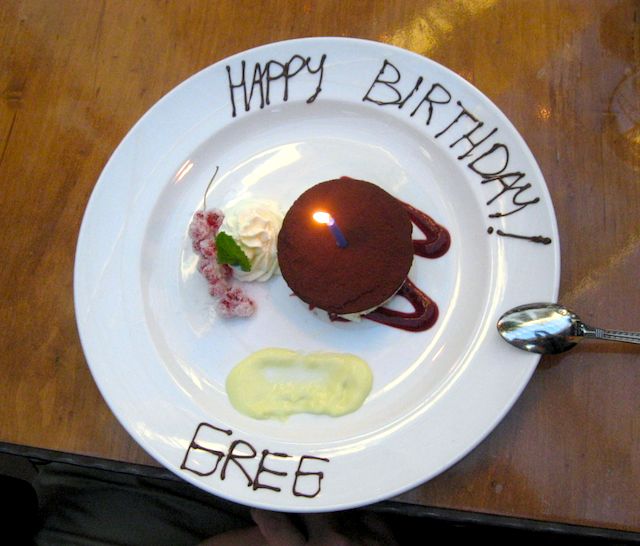 Being on a restricted diet, it isn't often that my family and I have a great experience in a restaurant that meets all of our special dietary needs and has a staff that shows respect and dignity with my son, Ethan, who lives with Asperger's Syndrome. But this past Friday – in honor of my husband's 40th Birthday – we had a truly stellar restaurant experience at Zeppole (a beautiful Coastal Italian restaurant) located inside the Gaylord Texan Resort.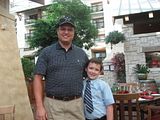 In the past – like most families raising a child with Autism – we've had our share of not-so-fantastic experiences in restaurants. On more than one occasion, we've left restaurants feeling less than satisfied, both with the service and with the food. In fact, you can read my previous post HERE about an experience this past summer with a judgmental and rude waitress. Many times we will simply avoid places we don't get a good feel (or good food) from, but it is always nice to find a place to go for special occasions…that is what Zeppole has now become for us.
Our first experience at Zeppole was during Mother's Day weekend earlier this year. We were thrilled to find a place that could serve delicious gluten-free pastas and desserts in a warm and inviting atmosphere! Back in May, when the chef graciously visited our table and asked us to let him know when we had plans to come back so he could make sure to have plenty of GF options on hand, it sealed the deal for us.
As we discussed a special place to celebrate Greg's birthday as a family unit, Ethan was the one to suggest Zeppole a few weeks back. He loves to walk around the gorgeous atrium in the Texan before and after our meals there, and thoroughly enjoys feeling like we were "sitting on the patio," thanks to the courtyard-style seating at Zeppole.
When I made our reservation, not knowing what kind of day Ethan would be having, we chose to dine early – 5:30pm, hoping to avoid any crowds and keep things as simple as possible. Because there weren't many other patrons there so early, the ambiance was quiet and calm and we got lots of attention from the wait staff. The Executive Chef, Chef Marco, came out to our table not long after we were seated to talk to us about our dietary restrictions, what we would like for dinner and what he had on hand.
Ethan and I both ordered Gluten-free pastas and Greg had a filet. Our appetizer and salads were both a big hit (Ethan ate every last bite of his green salad) and I don't remember ever enjoying a GF pasta meal more than I did that night! My dish was a pasta knot (similar to gnocchi, but I cannot remember the name) in a creamy basil sauce with asparagus and broccolini…it was the perfect combination of velvety, rich, melt-in-your-mouth goodness!
Chef Marco checked in on us several times throughout the dinner and answered lots of Ethan's questions about food and the restaurant. While I was still enjoying my pasta (slowly…with a terrific Chardonnay…I'm always the last to finish) Ethan asked Chef Marco, "Excuse me: Do you ever give tours of the kitchen?" To my surprise, Ethan was offered and given a personal tour of the kitchen and came back with an edible souvenir – a small bunch of fresh currants. Ethan felt like a king! (And, if you're anything like me…when your child feels happy, respected and jubilant…it is infectious!)
Not long after Ethan's tour ended, our desserts (gluten-free tiramisu) arrived. Greg's was personalized and all of them were garnished with delicate and beautiful chains of sugar-crystal-coated currants. Since Ethan had just come back to the table with currants, he was even more interested in the presentation of the dessert and ate every last morsel of his dessert (including the mint leaf for garnish) with a glowing smile on his face. Not only was dessert delicious, but it was beautiful, too.
Now, was Ethan a perfect gentleman the entire meal? No. There were several times he blurted out questions or comments that could have very well been considered rude. That's par for the course for us in this life as Ethan learns to make his way through society with Asperger's Syndrome. But, like always, we used those awkward moments as opportunities to teach and instead of focusing on what wasn't perfect, we focused on enjoying Greg's special dinner. For the most part Ethan used good manners and engaged the staff at Zeppole in appropriate conversations. I dare say he even charmed one or two of them…
We all had such a calm, enjoyable and memorable experience, as we were leaving Ethan told Chef Marco and our sweet waitress, Ashley, that we'd be back for HIS birthday in October. He even told them what day so they could mark it on their calendars! I would like to extend my sincere thanks to Chef Marco and his tremendous staff at Zeppole for such a wonderful, memorable evening.
I'd better start saving up now! While Zeppole is far from inexpensive, I feel it is worth saving for, and I think Ethan would agree.
Readers: If you live in the Dallas/Fort Worth area and are looking for a beautiful location to have a special event or meal for anyone with special dietary needs, I highly recommend Zeppole and Chef Marco. I also strongly encourage you to make a reservation early in the evening, before the restaurant is very crowded, especially if you have a child who has a tendency to be high-maintenance like our Ethan!
*
Leigh Attaway Wilcox is Editor in Charge of internationally acclaimed AutismSpot.com and her work can be found on many of the pLDNetworks sites. Leigh is the author of ALL BETTER: A Touch-and-Heal Book published by Piggy Toes Press in 2007 (now available for digital download). Leigh lives in North Texas with her husband and young son who loves reading, LEGOs, Mario Bros. and also happens to live with Asperger's Syndrome, an Autism Spectrum Disorder.