We want to welcome March and (hopefully) our soon to be spring season with a fun and easy St. Patrick's Day craft. This would be a great activity for your child to do on a play date or just for fun. Like all art activities, it will provide opportunities for language learning, socialization, fine motor practice and much more. They will also be visually intrigued and will enjoy exploring and mixing the colors. Enjoy and happy early St. Patrick's Day!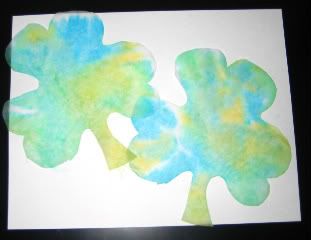 Materials:
-Coffee filters
-Food coloring (optional colors: green, blue, yellow)
-Foil pie pan (or another disposable container)
-Eye dropper
-Scissors
-Plastic (or disposable) bowls
-Smock to protect your child's clothes
-Visuals
Visuals
When using the visuals, try to focus on the specific visuals that help your child do the following:
-Understand
-Attend to the activity
-Create joint attention
-Participate within the activity
-Use their social communication language (i.e., requesting: "I want scissors," taking turns: "My turn for green," commenting: "Look", etc.).
-Follow directions
Point to the pictures as you talk.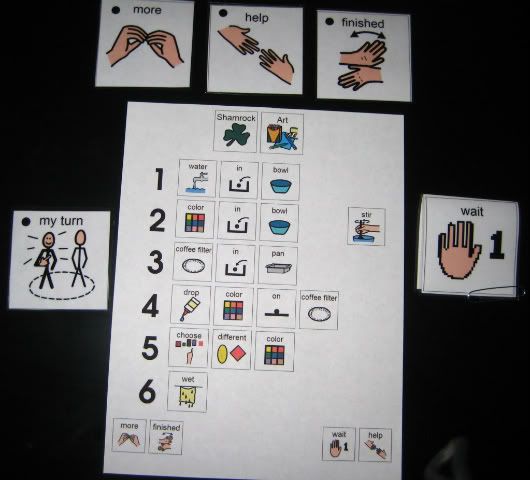 Preparation:
Trace and cut out a shamrock shape from the coffee filter paper.
**Hint** Layer the coffee filters before you cut them out to make several shamrocks at one time.
Steps:
1. Place the coffee filter shamrock in the foil pan.

2. Fill your plastic bowl with 1-2 tablespoons of water.
3. Have your child add 8-10 drops of food coloring. Repeat for each color.
**HINT** Too much water will over-dilute the colors. Add food coloring until the mixture is a deep green, yellow or blue.
4. Allow your child to stick the eye-dropper into the bowl and squeeze, obtaining a sample of the color. Add tiny drops, one at a time to your shamrock. Switch out between blue, yellow and green (at your child's discretion) and watch as the colors spread and blend!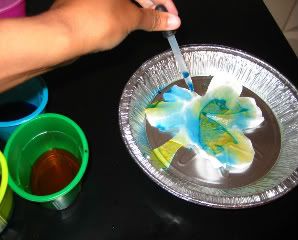 5. After your child is satisfied with his or her first shamrock, experiment with different color combinations and quantities and make another one! This can make a fun game or science experiment; write down the combinations of each color below each shamrock so you can compare and contrast after your art has dried.
For example:
Shamrock #1
-2 drops of blue
-3 drops of green
-no yellow
Shamrock #2
-3 drops of blue
-1 drop of green
-3 drops of yellow
Hang up or set aside your shamrocks to dry!
Once your shamrocks have dried you can laminate them using laminating or contact paper. These also make great sun catchers for your windows. Don't forget to talk about which one is your favorite and why!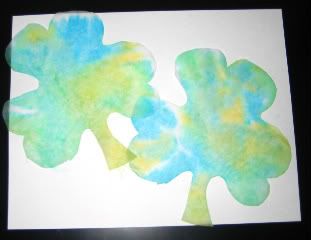 ~KidSpeak, LLC
www.kidspeakdallas.com
The Picture Communication Symbols
©1981-2012 DynaVox Mayer-Johnson
were created by KidSpeak, LLC and are
used under contractual agreement.
All rights reserved worldwide.