Product Name: Sand Timers - Set of 3
Price: $44.95
Company Name: Achievement Products
Company Website: www.achievement-products.com
Company Phone Number: 1-800-373-4699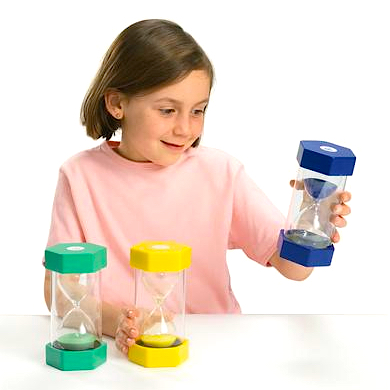 Product Description: Highly visual, 6" tall sand timer set conveys elapsed time in a colorful way that is easy for children to understand. 3 time increments (1 minute, 3 minutes and 5 minutes) are color coded for easy identification. Each features molded end caps.
Product Review: In an era where technology - quite literally - rules our lives, how nice is it to go back to the basics! While, yes, it is easy to set the timer on your phone for your children/students when working on an activity, when giving them a break, etc., I believe giving them a true visual is much more effective. This is the very reason why I absolutely love the 1, 3, and 5 minute sand timers. Set the 1 minute timer for a quick sensory break, or the 3 minute timer for a quick brain break! Looking to give your child a consequence for 5 minutes (such as loss of "free time")? Look no further than the 5 minute sand timer! And I absolutely LOVE how each of the sand timers are color-coded - each of the colors being bright, vibrant, eye-catching, and (best yet) fun! Oh, and tactile, too!
When I first got the sand timers, I wanted to see, for myself, if each of the timers were accurate in the time it took for the sand to run out (using the timer on my phone). Did the sand run out in 60 seconds in the 1 minute sand timer? Did the sand run out in 120 seconds in the 2 minute sand timer? Did the sand run out in 180 seconds in the 3 minute sand timer? The answer was 'yes' to all 3! And each of the sand timers are labeled with a minute number, so you know which is which.
So, again, in this day in age where we use our phones for practically everything, why not turn back the clock to a simpler time?! Do so by purchasing the Sand Timers - Set of 3, today! Neither you or your kids/students will regret it!
Craig Gibson is the Editor-In-Charge of AutismSpot and SensorySpot, and a writer for ImagineVLE. Craig has also published on the local and national levels, with autism and learning differences being his primary focus. In addition, Craig is the Lower School Student Support Specialist for the Renaissance Academy Charter School in Phoenixville, Pennsylvania.