Valentine's Day is just around the corner! Start preparing now to help your child have the most social success with this love-filled day. Love is an abstract concept that isn't learned overnight. Start incorporating a variety of Valentine's Day activities with friends and families such as books, music, food and songs and their understanding will begin to naturally increase. Check out a couple of our past blogs for ideas on how to make Valentine's Day a social language learning opportunity and how to help your child show their love towards their family and friends:
All You Need is Love http://www.autismspot.com/blog/All-You-Need-Love
Love Me Do http://www.autismspot.com/blog/Love-Me-Do
Here is a fun Valentine's Day craft that you can start now……tissue paper hearts!
Materials:
-White construction paper
-Bleeding colored tissue paper**
-Vinegar
-Cup or bowl
-Paintbrush
-Smock to protect your child's clothes
-Visuals
**HINT** Some tissue papers are NON-bleeding! Steer clear of "Non-Bleeding" or "Water-fast" tissue paper within this craft!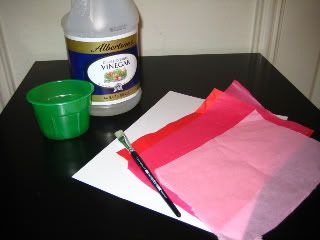 Visuals
When using the visuals, try to focus on the specific visuals that help your child do the following:
-Understand
-Attend to the activity
-Create joint attention
-Participate within the activity
-Use their social communication language (i.e., requesting: "I want pink paper," taking turns: "My turn for paintbrush," commenting: "Pretty", etc.).
-Follow directions
Point to the pictures as you talk.
Steps
Help your child cut out tissue paper hearts. If cutting is difficult for your child, precut the hearts in advance and have them ready to go.
Help your child paint the white construction paper with vinegar. It smells funny, but yields great results.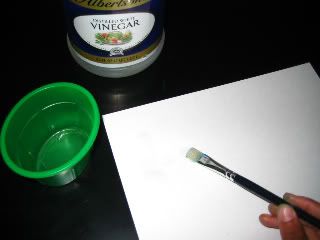 Next have your child place his or her tissue paper hearts in a design of their choosing atop the construction paper. The tissue paper will stick to the paper and the color will start to bleed into the paper!
If your tissue paper shows no signs of bleeding, add an extra coat of vinegar on top of your hearts. If there are still no signs of bleeding, check the tissue paper package. If the package reads "non-bleeding" or "water-fast," the colors will not transfer to the construction paper. That's ok! Gluing tissue paper hearts to the construction paper is a fun alternative to this Valentine's Day craft!
Set your artwork aside to dry. The construction paper will absorb the moisture and the tissue paper hearts will peel effortlessly away after they have dried. Ta-Da! A beautiful, soft blend of colorful hearts!
This quick and easy art craft can make a wonderful template for a Valentine's Day card. Just fold the paper in half and help your child write a loving message on the inside. Help your child practice saying, "Happy Valentine's Day!" and "I love you!" as he or she hands out cards to his or her loved ones!
Enjoy and Happy Valentine's Day
~KidSpeak, LLC
www.kidspeakdallas.com
The Picture Communication Symbols
©1981-2012 DynaVox Mayer-Johnson
were created by KidSpeak, LLC and are
used under contractual agreement.
All rights reserved worldwide.