We all have an optimal state for learning and processing information. Some of us have naturally high arousal and some of us have naturally low arousal. As adults, we automatically regulate our emotions and sensory needs and typically don't even realize it. If we are feeling low, we may have an extra cup of coffee in the morning. If we are feeling stressed, we may twiddle our hair, listen to classical music, take some deep breaths or take a quiet break. Children with autism may have a difficult time doing this. It is challenging for them to understand their emotions and their bodies. Teaching our kids how to express and cope with their emotions and sensory needs at a young age will help them independently regulate in a more natural way later on in life. We wanted to share a few fun and easy ways to implement learning feelings and emotions at home.
1. Structured Feelings Time
Put "Feeling Time" on your child's schedule each day. Take this time to sing a fun song about feelings and to label each person's feelings. Using visuals will help your child understand and use the language. Here are a couple examples of feelings songs that have worked for our kids. Point to the pictures as you sing and talk:
"How Are You Feeling?"
*to the tune "Oh My Darling, Clementine"*
"How are you feeling? How are you feeling? How are you feeling today? Are you happy are you mad? How are you feeling today? How are you feeling? How are you feeling? How are you feeling today? Are you sad? Are you sleepy? How are you feeling today?"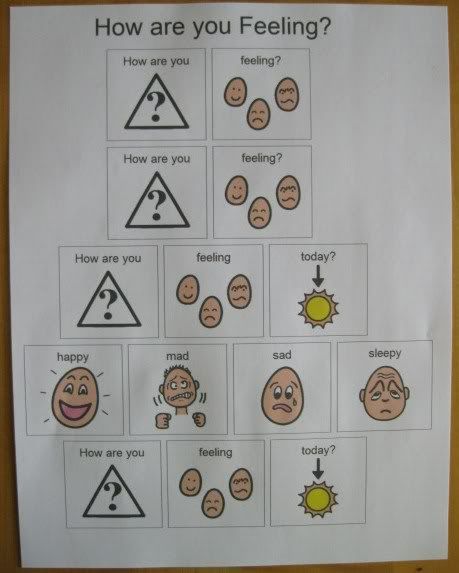 "How Do You Feel?"
*to the tune of "Row Your Boat"*
"How do you feel? How do you feel? How do you feel today? I feel something different every day. How do you feel today?"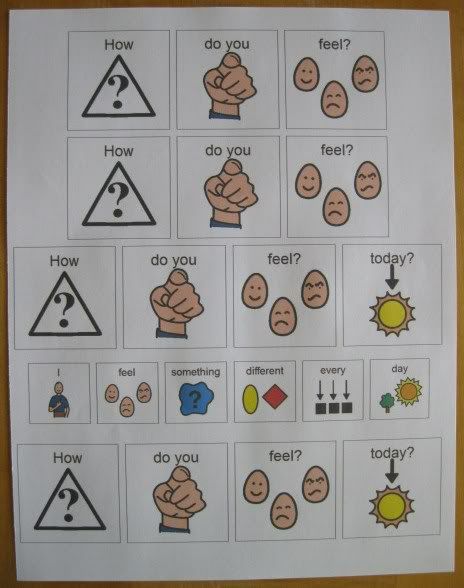 You can sing one of these songs at meal time, whenever you are in the car, during play time, etc. Think about your daily routine and try to fit one of these songs within your schedule two to three times a day.
2. Model Feelings Throughout Your Day
Model your feelings, your child's feelings and other friends'/family members' feelings throughout the day. Focus on how the person feels and the action they are using to express the feeling (or your goal action for your child). Such as: "Look Mommy is happy. She is smiling. You cleaned up and Mommy is happy!" "Daddy is mad. Daddy is going to take a break." "Suzy is sad. Suzy needs a hug!"
Remember two important things:
-If you sing a song about the feelings, your child will understand the feelings language and begin to use the language at a faster pace when compared to not singing a song.
-When we are mad/sad/frustrated, it is harder for your child to understand so use less language and speak slowly.
Here are some examples of large feeling visuals. You can make visuals like these, cut them out, laminate them and place them on a binder ring for easy access. Then you can keep them in a handy location that will make it easy for you to use them like in your purse, in your car, in the bathroom, in the playroom, etc. The more convenient it is for you, the more likely you will use the visuals.
3. Breaks
Everyone feels mad/sad throughout their day and everyone needs a break. Make sure that when your child is feeling mad/sad that you provide them with a break. "Joey is mad. When you are mad and you know it, take a break." Breaks can be anything:
At home: Make a break area in your home. At the KidSpeak office our break area consists of bean bag chairs and Pillow Pets in a quiet corner of the room. Here are a few different break areas that our families have used:
-Pillow area in their house with fun light-up toys
-Quiet area with sensory boxes
-Pop-up tents with pillows and toys
-Break shelf/box (break toys where the child could choose what they wanted for break)
On the go: While you are "on the go", you have a variety of break choices as well such as:
-Keep a small toy in your purse (toy car, stuffed animal, etc.) to use for breaks in a store, mall, etc.
-Playing kid music that your child likes while in the car
If your child is taking breaks frequently or the breaks are lasting very long, you can place a time limit on their breaks (one minute, two minutes, five minutes). Use a timer to help your child visually see and hear when their beak is finished.
We do not recommend using digital or electronic devices as break options.
Here is an example of a break visual that we created. Many families include a small symbol on their language ring and then use the large symbol to post at their break area in their home:
4. Family Feeling Chart
At KidSpeak we use a visual feelings chart with our children. They absolutely love the feelings chart and this is a great way to visually show them their feelings, how their feelings change throughout the day as well as other people's feelings throughout the day. You can create and use the same feeling chart at home for each member in your family: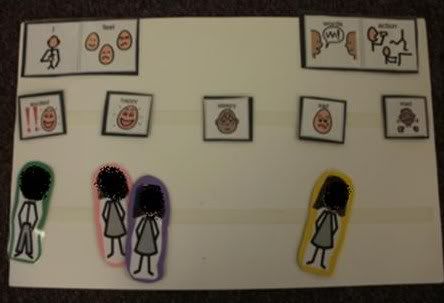 How to make your own feelings chart:
1. Make stick figures (enough for each family member).
2. Glue headshots of each family member on a stick figure.
3. Laminate the stick figures.
4. Place Velcro on the back of each figure.
5. Make a variety of feelings symbols.
6. Laminate the feelings symbols.
7. Place Velcro on the back of each feeling.
8. Get a big poster board.
9. Place two long Velcro strips across your poster board.
10. Place different feelings on the top Velcro strip (start with four or five feelings). You want to change out the feelings each week/day/etc. You can "store" your extra feelings symbols on a Velcro strip on the back of the chart. This has worked well for us.
11. It is ready to be used. Throughout your day move your "stick figure" across the feeling chart to show how each family member is feeling.
12. Keep your feelings chart someone that is easily accessible for the whole family like in the kitchen or the family room.
5. Feelings Book
Take a picture of each family member feeling: happy, sad, mad, silly, frustrated, etc. Then make a book focusing on:
-Who
-Their feeling
-Their face
-What they can do
"Mommy feels mad. Mad face. When you're mad and you know it, take a break." Example: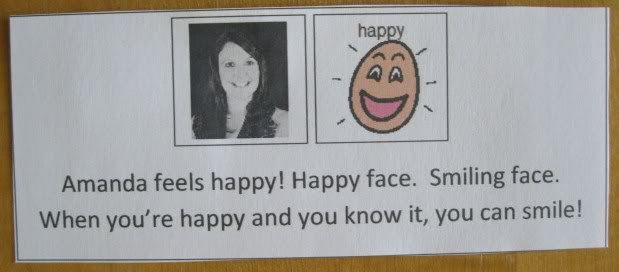 You can even take it a step further and write down what makes them happy, mad, sad, etc. Example:

A good goal is to read your feelings book and act out the feelings one time per day.
Here is a list of supplies that you may need to put these visuals together and places that you can find them:
Lamination/Poster Board/Binder Rings: Target, Walmart, Staples, Office Max
Velcro: Walmart, Home Depot, Lowe's, Staples, OfficeMax
Visuals: KidSpeak, LLC http://kidspeakdallas.com/products (click on the Custom Visuals option); Boardmaker http://www.mayer-johnson.com/ ; Do2Learn www.do2learn.com ; Microsoft Office Word Clipart
Here are links to some of our past feelings, emotional regulation and sensory videos and blogs:
Video:
Understanding Feelings and How to Regulate Emotions: http://www.autismspot.com/videos/Understanding-Feelings-and-How-Regulate...
Blogs:
What is Emotional Regulation?: www.autismspot.com/blog/What-Emotional-Regulation
Sensory Home Programming: www.autismspot.com/blog/Sensory-Home-Programming
Emotions: Our Jaw-Dropping Moment of the Week: www.autismspot.com/blog/Emotions-Our-Jaw-Dropping-Moment-Week
Question of the Day: My child tantrums every time I take away his favorite toy, what can I do?: http://www.autismspot.com/blog/Question-Day-%E2%80%9CMy-child-tantrums-e...
We hope you enjoy teaching your child how to express and cope with their emotions at home!
~KidSpeak, LLC
www.kidspeakdallas.com
The Picture Communication Symbols
©1981-2012 DynaVox Mayer-Johnson
are used under contractual agreement
and were created by KidSpeak, LLC.
All rights reserved worldwide.