Symbolic play refers to using objects or toys to represent something else within play. For example, a baby doll represents a real baby. We rock it to sleep, give it a bath and even feed it when it's hungry. A toy cow comes to life mooing and eating hay while he chases the farmer's tractor. A kitty cat mask transforms us into a four legged animal, meowing and searching for milk. A child is not born with symbolic play skills; in fact, these skills develop as part of a hierarchy of skills that are mastered over time. These skills carryover to further develop language, social skills, problem solving skills, creative thinking and much more. How can you help build your child's play skills? It is first important to understand your child's current level of play skills. Take some time to observe your child while she is playing. How does she use the different objects? To whom is she directing her actions? What types or sequences of schemes do you see? Then jump right in! Playing with your child is the first step to helping her skills continue to grow!
Manipulating Objects
Manipulating objects can be misinterpreted as symbolic play. Is your child pretending to make the horse gallop or is she tapping the horse against the ground for sensory input? Mouthing, twisting and turning play objects, spinning objects, dumping toys out of storage and then placing the items in a line, refilling a bin or play set are all different forms of manipulation. Lining up the family members within the dollhouse or placing the furniture within the different rooms is a good start, but you can help to develop these skills into a single scheme level of symbolic play!
Single Scheme
Single scheme symbolic play refers to a play scheme that involves a single symbolic act: pretend eating, pretend goodnight, pretend wash, etc. You can help build this skill with your child simply through turn-taking and modeling! In order to model a play scheme for your child, it is important to remove excess objects. Within pretend goodnight for the baby doll, take away the hairbrush, the bathtub, the extra clothes, and all other items that can clutter the play space. Clutter is a visual distraction and we want the focus to be on you and your child! Next, break down the play scheme into basic steps. For example, within pretend goodnight:
1. Put the baby doll in the bed.
2. Put the covers on the baby.
3. Sing goodnight!
Adding a "how to" visual will help all children (especially those with ASD) organize their thoughts, understand what is happening, understand the language, know what to do next and also expressively use the language:
When learning a symbolic play scheme, less is more! Here are a few more examples:
Within pretend eat:
1. Pass out the plates.
2. Pass out the food.
3. Pretend eat!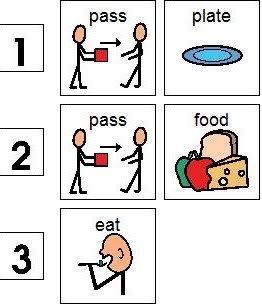 Within pretend wash:
1. Oh no! Animal dirty!
2. Wash animal.
3. Dry animal.
4. Animal clean!
How can I help my child attend to the activity? How can I help my child increase her understanding? Sing, sing, sing! Singing is the single greatest way to address the above issues, as well as increase vocabulary, increase familiarity, increase initiations and responses to comments and increase overall play! You can never sing too much! You can sing nonstop throughout a play scheme. Basically narrate what you are doing in a fun tune. And don't worry……children will not judge your singing voice.
"This is the way I pass out plates, pass out plates, pass out plates……This is the way I pass out plates….pass out the plates!"
"Dirty baby gonna wash, wash, wash! Dirty baby gonna wash, wash, wash!"
"Wet baby gonna dry, dry, dry……Wet baby gonna dry, dry, dry!"
"Goodnight, baby…..Goodnight, baby…..Goodnight, baby….It's time to say goodnight!"
You can change the words with familiar tunes and sing about anything! After you model the play scheme for your child, allow her to have a turn. Use the songs as cues. "Dirty baby, gonna wash.. wash.. wash." Use these single scheme play acts across all mediums; pretend goodnight/wash/eat with farm animals, pretend goodnight/wash/eat with stuffed animals, etc. Help your child become familiar with acting out these schemes on an object to increase her understanding of symbolic play before you move onto a new scheme.
Self-Directed vs. Directed to Other
Self-directed symbolic play is when your child performs the play scheme on herself. For example, within pretend eating, your child may bring the spoon to her own mouth rather than to the baby doll she is holding. This is related to Theory of Mind development. Directing the play to other refers to when your child is able to act different play schemes out on other objects or people. Self-directed symbolic play is a great stepping stone to developing later symbolic play skills and Theory of Mind skills. Again, take turns, model and SING!
Parallel vs. Cooperative Play
Parallel play is when your child engages in play alongside another child or adult without disrupting his or her play scheme. This is an important skill to first master before being able to engage in cooperative play (engaging in play with a peer or adult). Cooperative play can be structured to help develop skills through- that's right- modeling and singing!
Multiple Schemes
Multiple play schemes include combining single scheme play acts. For example, pretend wash baby and pretend goodnight. This is a great scheme to combine because it mirrors a salient sequence of events; at night we take a bath before we go to bed! You can help your child combine schemes the same way you help with single schemes. Model and sing!
Decontextualized Play Schemes
Decontextualized play schemes are observed when your child begins to use more and more abstract ideas and concepts within play. For example, a toy car serves as roller skates for baby doll, a chair serves as a car wash for cars and trucks, or a blue square on the rug becomes a swimming pool for the animals. This level of play comes after an increase in familiarity and understanding of both single and multiple scheme play acts and it allows your child to come up with play schemes on his or her own.
Symbolic play is an important aspect of child development. Help your child continue to become a dynamic thinker, build her creativity, and increase her social awareness and communication skills- all through play!
~KidSpeak, LLC
www.kidspeakdallas.com
Reference: "Pretend I'm the princess": Assessing and treating the language of pretend play Susan Hendler Lederer, PhD, CCC, Adelphi University, Garden City, NY
The Picture Communication Symbols
©1981-2012 DynaVox Mayer-Johnson
were created by KidSpeak, LLC and are
used under contractual agreement.
All rights reserved worldwide.