Many parents are hustling to get their kids fully potty trained before the new school year starts. We wanted to revisit our potty training blog and provide some helpful tips for accomplishing that goal.
Potty training. Worst nightmare or piece of cake? This experience is different for everyone. With the first day of school being just around the corner, parents are feeling the pressure to get their child potty trained and to get them potty trained fast. Your system may be working or it may not. Whether you are looking for a couple of tips or a truckload, we are here to help!
There are two things to know that we consider most important about potty training:
1. All children are different. Because of this, some of these ideas may apply to your child and some may not.
2. Just because YOU are ready for your child to be potty trained may not mean that your child is ready.
Here are eight things to think about before beginning potty training:
1. Big girl and big boy expectations: Being potty trained is a "big boy" and "big girl" expectation. If you have this expectation, then it is very important that you have the same expectations across the board for your child. This applies to a number of things including: sleeping in a big girl/boy bed, no more pacifiers, no more sippy cups, no more changing table, etc. All things that are associated with being a "baby" need to be slowly removed before you start potty training. Yes, there are a number of children that have been potty trained while drinking from sippy cups, but by eliminating these factors before potty training, you will make your experience more enjoyable (as enjoyable as it possibly can be) and faster (which we all want)!
2. Clothing choices: This is one of the most overlooked factors in potty training! Every parent's goal is for their child to be fully potty trained as quickly as they possibly can. In order for this happen, look at the types of clothes your child is wearing. Some children have fine motor difficulties so zipping, buttoning and unbuttoning are very difficult. In addition, some children may wear several layers. If this is the case for your child, set them up to succeed and place them in one layer of clothing including elastic pants/shorts/skirt while they are potty training. You can tackle the zipping, buttoning and unbuttoning later. We have seen many cases where a child would rather go in their Pull-Up then have to unbutton their pants because it is so hard for them.
3. Fear/Dislike of the potty: Some children may have a true fear or dislike of the potty. Remember the potty is very unfamiliar to them and may be scary (it is cold, big, it makes loud noises, it has water, things go in and disappear, etc.). You need to make sure that the potty is fun! Think about what your child likes. Do they have a favorite cartoon character, book, toy, etc.? You can decorate the potty or your child can help you decorate it. Some families have put stickers on their potties, others have used the bathroom washable crayons to color on the potty, etc. You can have a special radio with a special "CD" for potty music. One of the most popular ideas is a basket of fun toys that only stay at the potty. A few fun ideas are sensory toys: squishy balls, sensory boxes, water toys, etc.
4. Changing table: As mentioned under "Big girl/boy expectations," you need to stop using the changing table. Once you begin potty training, then all changing of diapers/Pull-Ups needs to occur in the bathroom on the potty.
5. Mommy/Daddy time: For children, the diaper changing routine is a parent bonding time. So transitioning from this "fun bonding time with my parent" to a "weird cold potty" is not their idea of a good time. So make sure that you replace this bonding time with a different bonding routine. Some fun ideas are: using what you do at diaper time during other familiar routines like bath time or bed time (so that they are not losing this routine completely, it is just happening at a different time), a special book time with Mommy/Daddy after they go potty, etc. This is not a reward for going potty, this is special time with Mommy/Daddy.
6. Underwear/Pull-Ups: When you begin potty training full time (step 4), you will need white Pull-Ups and fun underwear. Pick underwear that has your child's favorite characters: Lightning McQueen, Buzz Lightyear, princesses, etc. You can even have your child pick them out. Make sure to have a lot! We want their underwear to be motivating and their Pull-Ups not.
7. Schedules: If your child uses a visual picture schedule, make sure to add "Potty" to your schedule. In addition, work on your child going potty when they enter and leave a location (i.e., when walking into school before they go to their classroom and when leaving school before they get in the car; when walking into therapy before they go to the waiting room and when leaving therapy before they get in the car; etc.).
8. Initiating potty: Before most children can initiate "I need to potty," they first have to have positive experiences with the potty. When you are working on potty training, remember to always say the same phrase every time such as "go potty," "time to potty," "I need to potty," etc. This is not only helping them organize their day cognitively, but will also provide them the language they need to later use to initiate going potty. As always, adding a visual for this will be very beneficial for your child.
Potty Training Begins:
Step One: Wet/Dry/Dirty/Clean
The first step is that your child has to care if they are wet or dirty. Spend one week focusing on "wet," "dry," "dirty" and "clean." Every time you change the Pull-Up or diaper, talk about how "child's name is wet." Look and touch the wet Pull-Up or diaper. Next focus on the "new," "dry and clean" Pull-Up and how "Mommy is so happy when child's name is dry/clean." After a few days of focusing on these four concepts, allow your child to participate within this language activity during the changing process. You may find the following visuals helpful during this process:
You want to point to the pictures as you talk about the diaper or Pull-Up.
This week use your voice as a positive reinforcer. Each time they pull their pants up/down or use the correct concept (dirty, clean, wet, dry), have a very happy face and tell them what a big boy/girl they are. Your goal is not for your child to use the potty this week, but to allow their diaper changes to occur on the potty. However, if your child begins to use the potty….GREAT! But do not push for this to happen yet.
It is very important that the only things that have changed to their potty routines is the location (changing table to the potty), the introduction of "wet/dry/dirty/clean" and the introduction of the positive voice reinforce when they are dry/clean.
Some families may work on this concept for one week and others may work on it for one month. Remember that each child is different. Our goal is for them to understand when they are wet/dry/dirty/clean and to care when they are wet/dirty.
Step Two: Body schedule
One of the most important parts of making your potty training process successful the first time around is knowing your child's body schedule. Spend as long as it takes to understand your child's body schedule: when do they urinate and when do they have a bowel movement? Spend a week keeping a potty log. Place it somewhere in your house where everyone can fill it out: Mom, Dad, babysitter, etc. You want to write down your schedule for the day and then when your child is wet and dirty. Then after a week you can examine your log and see if there is a pattern. Some children are like clockwork: they urinate 10 minutes after they drink, five minutes after they wake up, etc. Other children are not like this. Some children may be every 30 minutes, every hour, not in the morning but in the afternoon, etc. Then there are the children that are literally going potty all the time. It is easiest to start and end your log on a day where you are not on the go.
Here is an example of a potty log: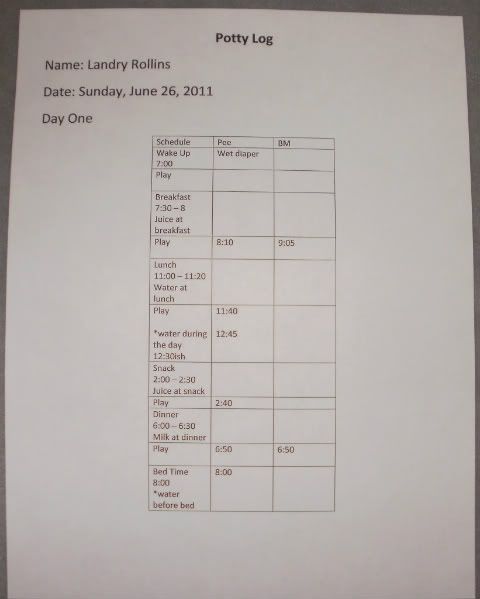 You can do a body schedule at the same time as you work on "wet/dry/dirty/clean." For some families this has been hard. They have chosen to spend one week on "wet/dry/dirty/clean" and then a second week on "wet/dry/dirty/clean" while working on the body schedule.
Step Three: Create a potty routine
Spend one week with your child still wearing a Pull-Up but with their new potty training routine: pulling down their pants, sitting on the potty, playing with their potty toys/listening to their potty music/reading their potty book/etc., going potty if they can, pulling up their pants, washing their hands. Just like the previous week, your goal is not for them to actually use the potty, but to become familiar with their new potty routine. However, if they do go potty….great!
Here are a few additional supports that may help you this week.
1. Potty Schedule
Point to the pictures and say each step using specific language designed for your child.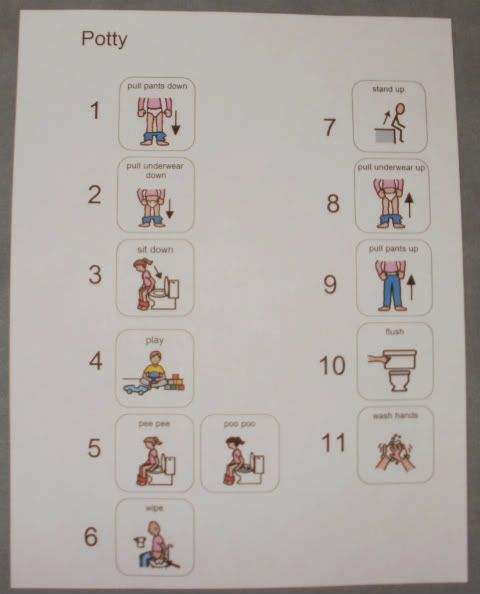 2. Potty Book
A potty book is very much like the potty schedule but in a book form. Some children can only focus on one step at a time…..if this is the case for your child, then making a potty book may be best. Some children want and need both.
Front cover of the potty book:

A page from inside the potty book: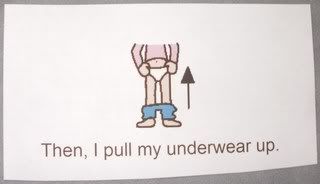 3. Positive Reinforcer
If your child goes tee tee or poo poo in the potty this week, they need a tangible reinforcer. Think about your child and what is motivating: for some children it is food, for some it's video games, for others it's a treasure box, etc.
Food: If you pick food as your reinforcer, then you have to eliminate that food and food type across all other contexts. Popular choices are lollipops, Skittles and cookies. If you choose cookies, this means that they cannot have any cookies or any form of cookies/cakes/muffins (anything that resembles cookies or that your child thinks resembles cookies) throughout their day unless they go potty. If you choose Skittles, this means that they cannot have any Skittles or other forms of candy (any candy or anything that they feel resembles candy). With lollipops, think if your child is a "licker" or "biter." If your child is a "licker" then lollipops may not be a good choice. They can go potty one time in the morning, get their special treat and then the treat may last all day. Then your child will not be motivated to go to the potty the rest of the day. We have had several children get one tiny Dum Dum lollipop and it has lasted them the entire day. If your child is a "biter" this may be a good choice.
Video games: If you pick video games, then your child is not allowed to play with video games/computer/anything electronic unless they go potty. Only allow them to use the video game for one to three minutes after they go potty. If the prize is their DS but they still have their iPod Touch/iPad, then the DS reward will not be motivating. If they get five to 10 minutes on their video system, this may be all they desire to have for an entire day; and therefore; will not be motivating.
Treasure box: If little toys are motivating for your child, then a treasure box is a good idea. But remember, one sticker, one stamp, one car, etc. may be motivating enough to just go potty one time during a day.
Step 4: The BIG DAY has arrived to go full steam ahead with Potty Training!
Start on a Saturday. Start on a weekend where you only focus on potty training. Do not have any major events planned for this weekend….you must stay at home all weekend! This means no therapy, no outings, no birthday parties, etc. Allow your child to do whatever they want that makes them happy this weekend (watching TV, playing with their favorite toys, etc.). Remember the total focus is potty training.
You will need: your visual supports, potty toys, positive reinforcers and of course big girl/big boy underwear…..say bye bye to your diaper or Pull-Up (except when they are sleeping).
When your child wakes up, read their potty book then take them to the bathroom. In the bathroom use the potty visual list and have your child sit on the potty with his or her potty toys. Show your child their new big boy or big girl underwear and place them on your child for the day. Your child will wear their big boy/girl underwear throughout the day. Only allow the Pull-Ups/diapers during sleep times.
Accidents will happen so be prepared. When they happen do not get upset with your child, they are still learning. Instead, take them to the bathroom and have them sit on the potty then show them their wet/dirty underwear and read the potty book.
The number of times your child sits on the potty and when they sit on the potty will be determined by their body's potty schedule. If your child typically potties only after meal times, then have them sit on the potty then. You may find a timer to be very helpful (however the timer can increase your child's anxiety). Knowing their body schedule will make sure that they are not sitting on the potty all the time. If you were unable to calculate your child's potty schedule then develop a time system: start by sitting on the potty every 30 minutes, if they have no accidents then move to every 45 minutes, if they still have no accidents then move to every hour and so on.
**If your child is ready to be potty trained, then we have found this potty training plan to work. In our experience, if your child is not ready, this plan will not work. Take a break from it and try again in two to three months. We want them to enjoy their new found freedom and not be afraid of it, so please remember to stay calm throughout this process and only give positive reinforcers. Remember all children are different.**
For your very own custom made potty visuals, check out the KidSpeak store: http://kidspeakdallas.com/products-page/product-category/custom-visuals
~KidSpeak, LLC
www.kidspeakdallas.com
©1999-2011 Mayer-Johnson LLC.
All rights reserved.
Used with permission.
Created by KidSpeak, LLC