Why is a family book important?
Creating a family book and reading it every day, once a week or once a month is an excellent activity for every child but especially for our children with autism or language disorders. A family book increases your child's overall awareness and social thinking towards the members of their family. The more they are aware of their family members (who they are, what they like, etc.), the more likely they will play and interact with them, engage in comments and conversation with them and share things with them such as actual objects and even life experiences. So how do we make a family book?
Family Book #1: A Beginning Book
This book should be short and sweet. It should only include the family members that your child lives with. The cover page should say "My Family" and have a picture of the immediate family on it. Then each page should have a single picture of a headshot of a family member. Under each page it should say "This is my ……" Your book should include:
1. Cover Page
2. Person Page: Dad
3. Person Page: Mom
4. Person Page: Sister
5. Person Page: Brother, etc.
It is important that you read this book once a day. Bedtime is a great time to read your book.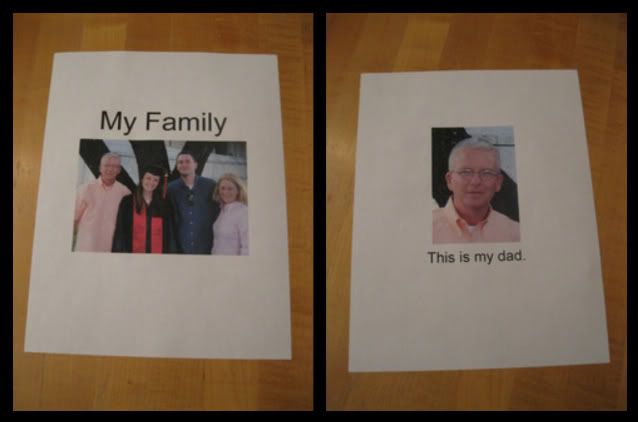 Family Book #2: Adding Actions Shots
After a few months of reading your "beginning book", it is time to add more pictures. Take a picture of your child playing with each family member. Then after each "person page" add an "action page". The action page should include a picture and then a simple sentence like "Mom likes cars", "Dad likes to color", etc. So now your book should include:
1. Cover Page
2. Person Page: Dad
3. Action Page: Dad
4. Person Page: Mom
5. Action Page: Mom, etc.
Continue to read this book every night.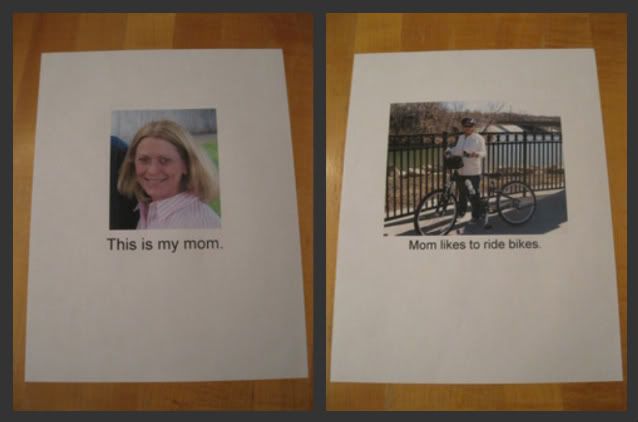 Family Book #3: Adding Fact Pages
Once your child is familiar with your action page additions, then it is time to add "Fact Pages". Choose two to three facts about each family member that makes them unique. These can be their physical traits such as hair color or eye color. These can be some of their favorite things like color, food, television show and so on. The fact pages should include both text and visuals, just like your other pages. Include the headshot of the family member and a visual representing the trait. This could be a simple drawing, a photo or clipart. Then include a simple sentence such as "Mom's hair is brown", "Dad's favorite food is hamburgers", etc. At this point, your book will include:
1. Cover Page
2. Person Page: Dad
3. Action Page: Dad
4. Fact Page: Dad
5. Person Page: Mom
6. Action Page: Mom
7. Fact Page: Mom
Continue to read this book daily.
Keep Adding to Your Book
Think about what works best for your family. Some families add one new action page and one new fact page each month. Some families add a new family member page (Grandma, Grandpa, etc.) once a month. There are three things that are important for you to remember about your family book:
1. Continue adding pages and concepts to your family book to keep it dynamic and so that your child is constantly learning
2. Add pages and concepts that are the most important to your family
3. Continue to read it every day
Assembly
As you assemble your family book, remember to pick a method that is easy for your family. Here are a few options that have been easy for our families in the past:
1. Pages in plastic sleeves and inserted into a folder with brads


2. Papers stapled together


3. Pages within a photo album

The key is to find what is easy and convenient for your family but most importantly, what will be the most beneficial for your child. Make your family book an ever changing dynamic tool so that your child's Theory of Mind skills, social thinking and social interaction will constantly be evolving and the effects will be geared towards what we care about the most……family.
~Amanda & Laura
KidSpeak, LLC
www.kidspeakdallas.com