In my last post, I shared suggestions from Chapter 1 of Elizabeth Strickland's book Eating for Autism about how to transition to a more healthy diet; with an acute focus on what must go. With this post, I want to share a little more from the book because it is overflowing with information that could be useful to anyone raising a child with an Autism Spectrum Disorder.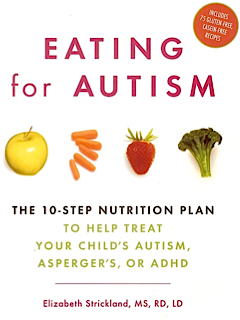 Elizabeth goes into great detail about how to make sure our kids get enough basic nutrients (think protein, carbohydrates, fat, fiber, micronutrients, vitamins, minerals and water). She describes how to assess each of these nutrients and make sure that you're feeding your child the right foods and combinations of foods.
She also addresses supplements, like Omega-3 fatty acids, which are a very commonly used supplement for children with ASD. Omega-3s are critical to proper brain function and our kids are often deficient. In her talk at the NAA chapter meeting I attended, Elizabeth shared that deficiencies of Omega-3's are often linked to (not only ASD, but also): ADHD, Dyslexia, Dyspraxia, Depression and Anxiety. Further, Elizabeth shared that if an individual has difficulty belching up the fishy flavor that sometimes accompanies Omega-3s, keep them in the freezer and it will minimize or completely solve the issue. (I have to share that I've started doing that with ours, and my personal Krill Oil supplements are MUCH easier to handle since then!)
If you have a child who has been referred to as a "Picky Eater," I think you'd find Elizabeth's distinctions between a "Picky Eater" and a "Problem Feeder" very interesting. According to Elizabeth, they are two very different things and require entirely different approaches for resolution. While picky eating is a normal stage of childhood, problem feeding is not and may actually require individualized feeding therapy. Elizabeth trains therapists and has even helped some families work feeding therapy into their child's IEP in school districts. When I heard her speak, she encouraged parents with problem feeders to seek a dietitian who has experience working with kids living with developmental disabilities and is able to think outside of the box. She also recommended that if you can't find someone in your city or town, look outside of the community for someone skilled in this subpopulation of children. Elizabeth has clients across the country for this very reason.
Elizabeth also talked to the audience about subclinical signs of nutritional deficiencies. Sometimes "minor" things can be used as a clue that our child is suffering from some sort of nutritional deficiency. Consider these symptoms as potential clues that your child may have some kind of nutritional deficiency: irritability, mood or behavior changes, poor concentration, depression, anxiety, sleep disturbances and loss of appetite.
Did you know that over 70% of children with ASD have undiagnosed GI issues? Since so many have painful "gut" issues like abdominal pain, constipation, diarrhea, bloating, reflux or chest burning and severe gas, Elizabeth helps determine what is happening in the child's system so that healing can begin. Are the child's gut problems due to food allergies? Food sensitivities? Food intolerances? Many times a child needs to see a Gastroenterologist before feeding therapy can begin. But, for some of these issues, an elimination diet may be necessary; Elizabeth dedicates an entire chapter to trying a special elimination diet. She discusses GFCF, SCD, Rotation Diet, Anti-Fungal Diet and Feingold.
Ever wonder about high-dose vitamin B6 therapy? Elizabeth examines how megavitamin therapy has been very beneficial for many individuals with Autism, but also arms parents with important information so that they are able to decide if it could be "right" for their child.
With so many children with ASD suffering from leaky gut, it is necessary for them to have various vitamins, minerals, antioxidants, amino acids via supplements. Elizabeth examines some of the supplements commonly used to help with cognitive function, to strengthen the immune system and others used to enhance the detoxification system. In her practice, Elizabeth is often able to prescribe custom-made vitamin and mineral supplements to be compounded by a pharmacist in the form (powder, capsule, liquid) best suited for your child.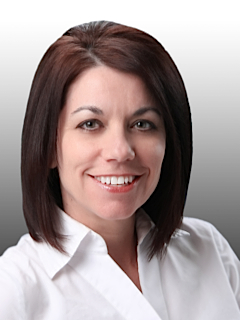 In Part 2 of the book, Elizabeth shares her favorite nutritious, delicious, easy-to-make GFCF recipes that the whole family will enjoy. I'm looking forward to whipping up some GFCF hot chocolate from her recipe for my son to try!
Let me know what you think of the book? Do you have a problem feeder? Does your child receive feeding therapy?
Leigh Attaway Wilcox is a writer and editor for the projectLD family of companies. Leigh is Assistant Editor of the internationally acclaimed AutismSpot.com and her work can be found on many of the pLDNetworks sites. Leigh is a guest blogger for the Dallas Morning News on the Dallas Moms Blog and is the author of ALL BETTER: A Touch-and-Heal Book published by Piggy Toes Press in 2007. Leigh lives in North Texas with her husband and young son who loves reading, LEGOs, Mario Bros. and also happens to live with Asperger's Syndrome, an Autism Spectrum Disorder.