This is a post I added in March of last year. I had received some positive responses from the idea, so I thought I would share it again for those who may have missed it the first time!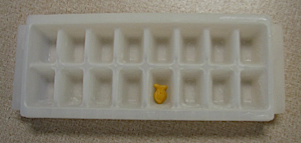 So you think an ice cube try is only good for making ice? Think again! A few years ago, I ran across another use for the ice cube tray.
Some children, when given finger foods for snack or meals, put too many food items in their mouth at once, creating a potentially dangerous/unsafe situation. For example, one of the children I worked with absolutely loved fishies (as most kids do). The problem was that he would grab bunches of fishies at a time and put them in his mouth. I'll be honest - this scared me. The chances of this child choking on finger foods was great and, because of this, something had to be done.
So, instead of continuing an unsafe practice, I put into place a safer one. Instead of giving the child a handful of fish on a plate, I placed one fish in each section of an ice cube tray. I then modeled for the child how to use it. Before long, instead of the child grabbing fishies in bunches, he was independently picking up one fish at a time. This not only teaches the child to take his time when eating, but also encourages appropriate table manners. And, most importantly, it greatly decreases the chances of the child possibly choking on his food. This strategy can be implemented in the home, in the classroom, and when out in the community (such as when eating out at restaurants).
Would you ever have guessed there would be so many uses for an ice cube tray?
*
Many thanks to Autism Specialist, Kathy Fox at The Arc of Chester County, for another terrific strategy! If you'd like to learn more about The Arc of Chester County, click on the following link: http://www.arcofchestercounty.org
Craig Gibson is the Editor of SensorySpot.com, sister site of the internationally acclaimed AutismSpot.com. He is also a Feature Writer for AutismSpot.com. Craig was diagnosed with a learning disability at the age of six, and spent the next twelve years in special education. He has since earned two degrees and has published on the local and national levels. Craig can be reached at craig.gibson6@verizon.net.