Conversation. One of the most important social skills. We use conversations to get to know a person. To share. To relate. To build relationships. When a child or adult has any difficulties with conversation, even subtle difficulties, this can affect their ability to create and sustain relationships with friends, family, classmates and colleagues. At KidSpeak, we work on conversational skills with our kids through a variety of activities and goals. Here are just a few ideas you can try out with your child at home or in therapy sessions:
Conversation Rules
Many kids we work with are not only very literal thinkers, but very visual thinkers. Verbally reminding them what to do in order to have a nice conversation just doesn't always cut it. I mean, who wants to be told what to do over and over and over? Not me. Creating a list of their specific "conversation rules" works wonders. We typically start off with one or two rules and then, depending on the child, can work our way up to a long list of skills. The skills can be as simple as, "look at the person you are talking to" and "ask your friends questions" or can be more complex like, "if they person doesn't know the topic, provide them with more information." Tailor the conversation rules to the skills your child needs to work on. Making the list even more visual with clip art, drawings or Boardmaker symbols is extremely helpful. If your child is learning to read, you will definitely need to add visuals. Before you practice conversations, review your rules. After the conversation is finished, review your rules again. You can talk about what rules you followed, which ones were more difficult and more. Make it fun!

Question of the Day
"Question of the day" is a similar to the concept of "letter of the day" or "word of the day" but with a nice social twist. This is a fun and effective activity for children of all ages. Plan out your questions of the day in advance and make them visual. Present the child with the question of the day and take turns asking and answering the question. Depending on the child's level, you can help them point to each word/picture in order to elicit speech production. Also depending on your child's level, he or she may need a page with visual answer choices. Try to get the conversation to continue once the question is answered. This would be a fun and motivating activity during Circle Time, snack or lunch; during mealtime at home, during a car ride or during a structured conversation time within a therapy session. You can also place a question of the day in your child's lunchbox so they can have a way to start conversation with their peers.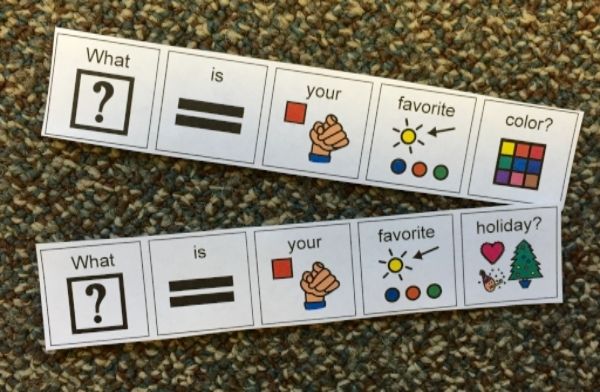 Conversation Starters
Our school-aged children love conversation starters. They are basically fun questions or topics that do that very thing, get a conversation started. They are a fun change from the typical, "How was your day?"; "What did you do at school today?" or "How was your weekend?" You can find all sorts of fun conversation starters online. Some sites we like to use include: www.teacherspayteachers.com , www.wordnerdspeechteach.blogspot.com (see image below) and www.skiptomylou.org. Print and cut out your conversation starter cards. You can place your cards in a stack in the middle of a table or the floor of you can also make a "Conversation Bag" or "Conversation Box" where you store all your conversation starter cards. Place a few conversation starters in your bag or box and take turns taking out a card and talking about each topic or question. You will be amazed how much the kids will learn about each other and how well the conversation can flow. Like the questions of the day, you can also place one of these in your child's lunchbox for school.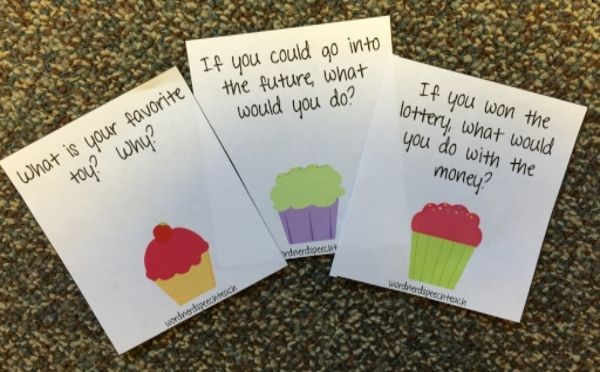 Conversation Cubes
Conversation cubes are similar to questions of the day and conversation starters but they are in a fun die format that the children can take turns rolling. The can be easily made using paper, scissors, tape and something to write with. Here is a nice template you can use: http://www.coronetpublications.net/tag/cube-template-printable . Include a question or topic on each side of the die and draw a little picture or include clipart of a Boardmaker symbol. These are also great to use during a few "conversation time" during therapy or during a meal or snack time.

For questions of the day, conversation starters and conversation cubes, you can use theme-related or seasonal material. For instance, your conversation cube can be topics about going back to school ("What is your favorite subject?" "What is your least favorite subject?" "What school do you go to?"). Your questions of the day can be about Halloween ("What is your favorite candy?"; "What will you be for Halloween?"). Your conversation starters can be about sports if that is what your kids enjoy. Try to think of things that other children and even adults are talking about and base your materials on that. Make it fun, yet functional so they can carryover their newly learned skills.
We hope you enjoy these ideas for working on the very important social skill of conversation!
~KidSpeak, LLC
www.kidspeakdallas.com
The Picture Communication Symbols
©1981-2015 DynaVox Mayer-Johnson
are used under contractual agreement
and were created by KidSpeak, LLC.
All rights reserved worldwide.