Mother's Day is just over two weeks away. How can we actively involve our youngsters in the Mother's Day gift giving process? By combining two of Mom's favorite things……jewelry + handmade gifts = macaroni necklaces! Painting macaroni sounds tedious, messy and time consuming but in actuality it can be simple, fun and quick with minimal clean up. The best part of this craft is that your child will be working on a multitude of skills and they won't even know it! Some skills include counting and numbers; fine motor skills and finger strengthening; color skills; social skills like taking turns, waiting, commenting and conversation; making choices; sequencing and planning; Theory of Mind skills and much more.
Materials
1. Uncooked macaroni * for small fingers we recommend large pasta with large openings like rigatoni or ziti*
2. Tempera paint *Mom's favorite colors*
3. Tupperware containers
4. Glitter (optional)
5. Yarn
6. Scissors
7. Crayon (optional)
This activity needs to be spread across two days or started in the morning and ended later in the day to ensure that the macaroni is dry enough for stringing.
Visuals
When using visuals, the goal is to focus on using the specific visuals that help your child:
-Understand
-Attend to the activity
-Create joint attention
-Participate within the activity
-Follow directions
-Use their social communication language (i.e., requesting: "I want to pink paint," taking turns: "My turn to shake," commenting: "Wow! Pretty!" etc.)
Point to the pictures as you talk.
Steps
1. Gather your materials. An easy way to address basic Theory of Mind is to use paint colors that Mom would like……Mom's favorites and not necessarily your child's favorites. Throughout the activity focus on the language such as: "Mom loves yellow! Yellow is Mom's favorite color. This will make Mom happy!"
2. Have your child count the number of macaroni they need to paint. Ten large rigatoni for each color was a good amount for our three year olds. Have your child count and place the macaroni in a Tupperware container.
3. Have your child choose the paint color and then have them squeeze a moderate amount of paint into the Tupperware container with the macaroni. This is where you would add glitter if you would like.
4. Close the Tupperware container and then have your child shake the container (great sensory input!). This will cover the macaroni in the paint. Open the Tupperware container to check your macaroni.
5. Repeat steps 2 -4 for desired colors.
6. Allow macaroni to dry completely.
7. Cut a long piece of yarn suitable for a Mom friendly necklace and then have your child string the macaroni on the yarn. Try tying a crayon at the end of the necklace to prevent macaroni from falling off when stringing.
8. Help your child tie a knot to make the necklace.
Here are some different fun examples of macaroni necklaces that we found online. Experiment with different textures, sizes, shapes, colors and patterns!
From http://patchworkumbrella.wordpress.com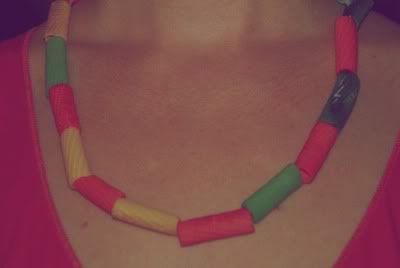 From www.skiptomylou.org

Fanciest macaroni necklace ever! From www.frugalfoodiecookbook.blogspot.com

Your child will love this craft for Mom and will be working on so many fantastic skills. Happy early Mother's Day!
~KidSpeak, LLC
www.kidspeakdallas.com
The Picture Communication Symbols
©1981-2012 DynaVox Mayer-Johnson
are used under contractual agreement
and visuals were created by KidSpeak, LLC.
All rights reserved worldwide.