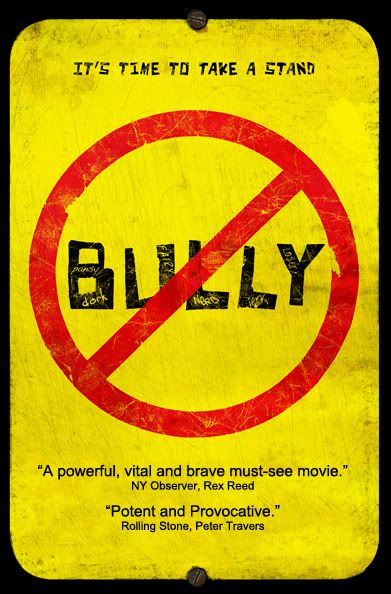 Almost two weeks ago I previewed a documentary set to hit theaters this Friday. BULLY, a documentary by Sundance and Emmy-award winning filmmaker Lee Hirshman, is a film every parent needs to see. It is also a film I believe most teens need to see, too.
Many of us raising children with special needs experience sleepless nights worrying about how our kids are treated by peers and even other adults while at school and other activities…about how it will affect them – physically and mentally. This film addresses the toll bullying takes on children, teens and families by following three kids over the course of a school year (Alex, Kelby & Ja'Meya), but it doesn't stop there.
In the opening scenes of the film, a father watches home videos of his first born child, Tyler, making silly faces. Tyler's father, David, shares that when Tyler was in preschool, they noticed that Tyler was "different" from his peers. Tyler didn't do well in large crowds and couldn't stand loud noises. David "knew" that Tyler would be victimized at some time. When he was a little older – because he wasn't very athletic – Tyler wasn't chosen in PE to join teams and was called "geek" and "fag" by his classmates.
Watching David talk about Tyler, I was thinking: Different. Anxious in crowds. Sound sensitivity. Issues with gross motor skills. Intentionally left out of activities with peers. Wow – in many ways, Tyler sounds a lot like my son.
That's when David drops the bomb that at age seventeen, Tyler listened to his peers when they told him he was worthless and that he should go hang himself. Within the first few minutes of the film, the pain of the Long family's loss is palpable…real…undeniable.
In addition to featuring Tyler Long's family, BULLY grieves right alongside the Smalley family who lost their 11-year-old son, Ty, to a bullying-related suicide as well.
Tyler, Ty, Alex, Kelby, Ja'Meya, my son, your child, your grandchild, your neigbor – all precious – and all at risk.
So, where does bullying start? Where does it stop? That's what the film is all about. This is a real-world look at how bullying looks, up close and personal. The film catches bullies in the act. It shows the responses of the children being bullied, the kids' peers and the adults in their lives.
And, it also shows the painful fall-out - the aftermath - of how deeply bullying cuts.
In the film, foul language used by a bully initally resulted in the movie receiving a "Restricted" rating. Fortunately, thanks to some determined people who petitioned to have the Motion Picture Association of America reconsider, BULLY will run later this week with a rating of PG-13. This, in my opinion, is very important; I think that at the appropriate time – all teens need to see this movie and let it spur a very serious, ongoing discussion with the adults in their lives about how detrimental bulling can be and how to best handle bullying situations.
I'll be honest: this isn't an easy movie to watch. In the two weeks since I previewed the film, I often have flashes of the children and families profiled throughout my day while I'm busy doing a multitude of other things. Alex, the 12-year-old boy featured in the film is frequently the main subject of my flashes. He was born premature, at 26 weeks, and throughout the film is bullied relentlessly.
Some of the comments Alex makes about his life resonate deeply with me, because they are comments/ideas I've often heard (or read) from people with Asperger's Syndrome, some even from my own son:
"I like learning but I have trouble making friends."
"People think I'm different…I feel like I belong somewhere else."
"They push me so far that I want to become the bully."
This documentary ranks as one of the most important films I've ever seen. I strongly encourage you to watch it and, after watching it, if you feel your teen is mature enough to process the complex subject matter and message of the film, I encourage you to take them to see it with you. Tell your family and friends about it, too. Everyone needs to know about this movie; it will take all of us standing together to educate this generation of adolescents and teens to make long-lasting change. When Ethan is older and more mature, I'll be watching the movie with him for sure.
If you'd like to read more about bullying, visit the film's website and click (Part 1, Part 2 & Part 3) to check out my interview series "Bullying is a BIG Deal" with Dr. Lisa Elliott which ran last spring here on AutismSpot. Bullying IS a BIG deal and it desperately needs to be addressed as such.
*
Leigh Attaway Wilcox is Editor in Charge of the internationally acclaimed AutismSpot.com and her work can be found on many of the pLDNetworks sites. Leigh is the author of ALL BETTER: A Touch-and-Heal Book published by Piggy Toes Press in 2007 (now available for digital download via Moving Picture Books). Leigh lives in North Texas with her husband and young son who loves reading, LEGOs, Mario Bros. and also happens to live with Asperger's Syndrome, an Autism Spectrum Disorder.