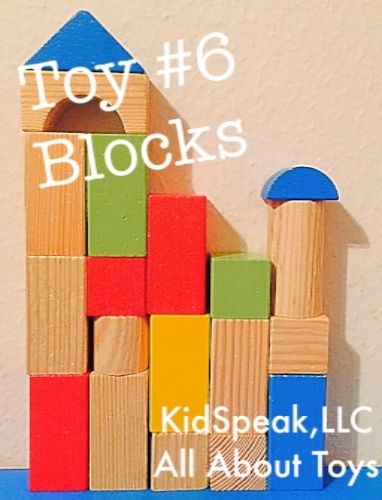 This toy series is all about one of the most primitive toys out there, yet it's also one of the hardest toys for parents to play with their child. As adults we tend to lose our imagination and when it comes to blocks, all we can think of is building towers. While this is a great start for kiddos working on their language and play skills, there are so many more ways to play with blocks. There are also many different types of blocks to incorporate in your play repertoire: wooden blocks, LEGOS®, Lincoln Logs®, bristle blocks, foam blocks, Magna Tiles®, and much more.
With the wide variety of play activities to do with blocks, you can work on so many skills: constructive play (building play), turn taking play, visual-spatial play, symbolic play (pretend), communication (requesting, commenting, asking for help, etc.), basic concepts (shapes of blocks, colors of blocks, size of blocks, prepositions, etc.), and so much more.
Appropriate ages:
Ages vary depending on the type of blocks. With some you can start with play as early as 24 months. Please be sure to check the age on the packaging of any block you choose.
Where to buy blocks:
Amazon
http://www.amazon.com/s/ref=nb_sb_noss_2?url=search-alias%3Dtoys-and-gam...
Target
http://www.target.com/s?searchTerm=blocks&category=0%7CAll%7Cmatchallpar...
Walmart
http://www.walmart.com/search/?query=blocks
Toys R Us
http://www.toysrus.com/category/index.jsp?categoryId=2255962&sr=1&origkw...
Lakeshore Learning
http://products.lakeshorelearning.com/search#w=blocks
Melissa and Doug
http://www.melissaanddoug.com/search?q=blocks
Average Price:
$10.99 - $39.99
What To Do With Blocks
Build
For younger kiddos you can start by building simple structures: towers (stack blocks on top of each other), farm/zoo (place blocks in a square outline), a road (place blocks in a line), train tracks (place blocks in two lines with small blocks going across), house (place blocks in a square outline), and more. The key is to keep it simple so they are able to recreate it.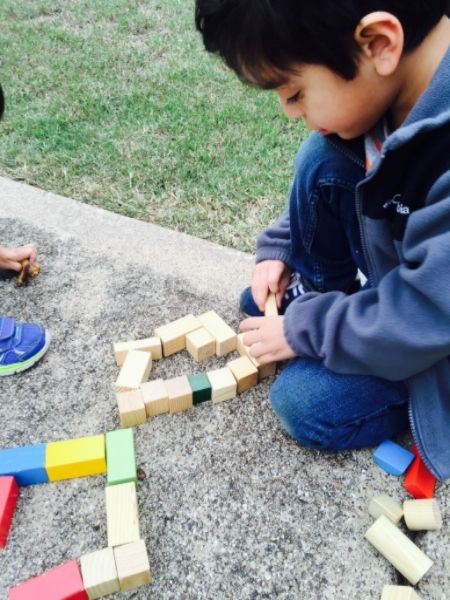 As their play skills increase you can add on to the simple structures they are already familiar with: combine towers and a road to create a city, build a train station for the train tracks, build a lake for the farm, add blocks vertically to create a cage for the zoo and create multiple cages, add furniture to the house and create multiple rooms, and more.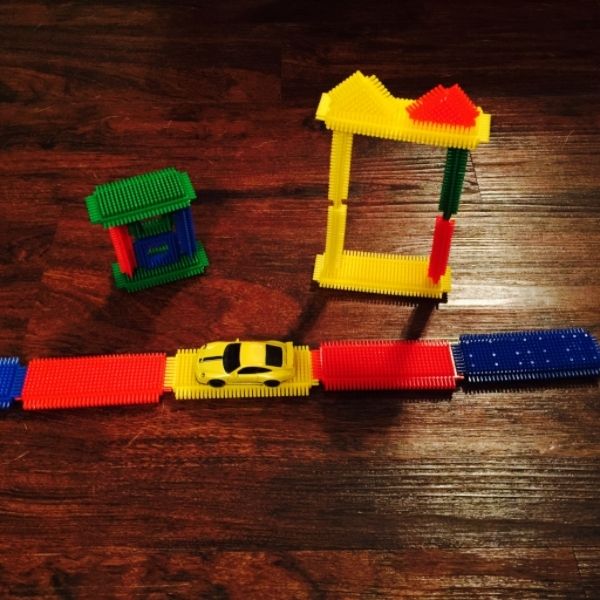 You can also create more complex structures: castles (build castle, moat, cave for the dragon, etc.), playground (build swings, slide, seesaw, trees, etc.), airport (build the airport and runway), circus (build seats for audience, stage, tents, etc.), school (build classroom, desks, chairs, lunchroom, playground, etc.), and so on. The possibilities are endless. Pick something that your child has recently experienced or is about to experience.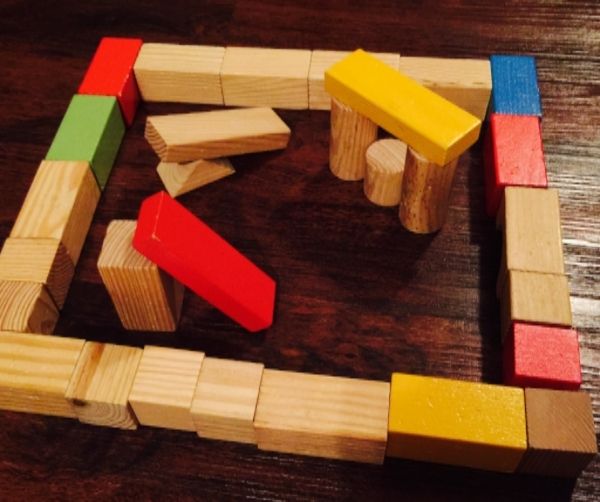 Pretend
As children work on their constructive skills described above, you can also incorporate other toys to work on their pretend play. You can use toy cars, planes, trains, toy animals, Barbies®, superhero characters, toy food, and more. Creating routines within pretend play is one way to help your child with this more challenging play skill. For example, within farm, the animals can go to sleep in the barn, then wake up and eat breakfast. Within the city, you can use the superheroes and villains. The villain can "destroy the city" by knocking the towers down and the superhero can "save the day" by stopping the villain and taking him to jail.
Language
There are a variety of ways to work on their language skills when playing with blocks. As they are building, you can have them make choices of specific shapes or color of blocks, request "more blocks", and ask for "help". They can also work on following directions and incorporate prepositions and other basic concepts, "Put the long, blue block next to the short, red block".
With pretend they can work on sentence structure and vocabulary as they make comments within the play.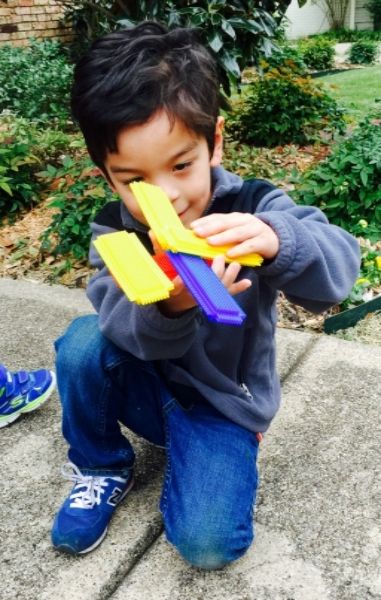 Older Kiddos
As our kids get older we continue to play with blocks to work on higher level language skills such as: brainstorming, Theory of Mind, problem solving, and more. One way to do this is brainstorming ideas of what to build and how to build it with their peers instead of having us tell them what to build and how to do it. This also gives them an opportunity to work on deciding together and coming to an agreement with our peers.
Blocks are one toy with so many play possibilities which enables us to incorporate it into our child's play throughout their childhood. We hope you and your child enjoy playing with blocks as much as we do!
~KidSpeak, LLC
www.kidspeakdallas.com
Check out our other blogs to our "All About Toys" series:
All About Toys Introduction: http://www.autismspot.com/blog/Introducing-our-new-blog-series-All-About...
Mr. Potato Head: http://www.autismspot.com/blog/All-About-Toys-1-Mr-Potato-Head
Pegs: http://www.autismspot.com/blog/All-About-Toys-2-Pegs
Play-Doh: http://www.autismspot.com/blog/All-About-Toys-3-Play-Doh®
Pretend Play Sets: http://www.autismspot.com/blog/All-About-Toys-4-Pretend-Play-Sets
Magna Doodles: http://www.autismspot.com/blog/All-About-Toys-5-Magna-Doodles